Have you ever asked yourself,
"Is this all there is to LIFE?" 
Even with your status and material abundance, your soul isn't satisfied. It's SCREAMING for something. Something different that will satisfy you from the inside — out. There IS more to life and most importantly, you are MEANT for MORE! 
You are meant to live your GREATEST, GRANDEST most authentic life!
You are meant to have incredible vibrant health. 
You are meant to live in joy and happiness EVERY DAY. 
You are meant to have deep, amazing transparent relationships that nourish your soul. 
You are meant to have a career that is aligned with your soul's priorities.
You are meant to lead with power, flow, clarity and trusting your own intuition. And, if you're NOT living like this now… you can be!   




As a spiritual mentor to conscious CEO's, leaders and influencers around the Globe, my passion is guiding others to fuse together all areas of their life to create deeper connections, more meaning, and a well-nourished soul.
Praise for Lara


Eryn, CEO
"The short term results were immediately feeling a sense of a weight being lifted from my shoulders. The long term results have been that numerous. Including, employees that stayed raised their awareness and vibration. And money wise, we are up $70,000 in 6 months compared to last year. Lara has created an energy of healing and raised our vibration on a personal level which has translated into an elevated business and overall environment."
Dianna, Owner
"The light language washes over you and blankets you with calmness. You feel cared for, comforted and safe from all outside nonsense. I am now more grounded and aware of my own issues. She has worked with my whole family and has changed the dynamics of us as a group. We have so much more fun together and just have more joy in our relationships."
Michael Zildjian, Author & Speaker
Janet Z, Retired Nurse & Grandmother
Brad M, CEO
"She's smart, sassy, funny, and soulful with wisdom beyond what we know. Sure, she has business smarts and is used to working with C-Level people, but she is able to distill any problem or hurdle into bite-sized pieces and make so-called obstacles into opportunities for growth. Lara seemingly takes these blinders off of your face, figuratively smacks you across the face with a velvety hand, and releases you into the open to make you free to be the person you were meant to be in this world. It's a liberating experience that can change your life.
Lara just gets it. She is able to relate to any experience — and I mean any experience, whether you're a man or woman — and can help you breathe for a moment and assess the situation. There is an instant connection that only takes five minutes or less with her. With Lara, there is no "let's stay in touch" — there's a "we're already in touch." Her spirit just draws you in like an old friend and brings peace.
I hesitate to ask for help. I've always considered my self to be self-sufficient, so asking for help was a big step for me. The best thing about working with Lara is you feel safe because she's walked in your shoes."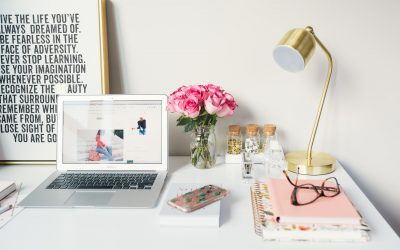 Working from home (WFH) is ripe with perks; however, for many it has created numerous challenges never experienced before. And, with no end in site of returning to an office building, WFH appears to be our new normal. One of the unique challenges that you may be experiencing is a heavy…
read more
Lara's real world experience with the invisible realm is unparalleled. Learn how you can harness the power of the unseen to create shifts in your own life, business and community. Each episode also includes a LIGHT LANGUAGE MEDITATION!